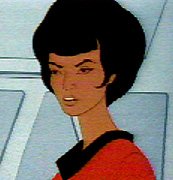 On stardate 5483.7, while under the influence of the women of Taurus II, the male crew members of the Enterprise were incapacitated enough by the "siren's song" to necessitate that Lieutenant Uhura assume command of the ship. She and Nurse Chapel led an all-woman landing party that beamed down to Taurus II to rescue Kirk, Spock, and Dr. McCoy. ("The Lorelei Signal"). In 2269, on stardate 5591.2, the Enterprise visited the Amusement Park planet. The Keeper of the planet had died and Uhura was abducted by the planet's computer which was then in charge of the planet. The computer felt that it was being taken advantage of but Uhura reasoned with the computer and it ceased its hostile actions against the Enterprise's crew. ("Once Upon a Planet"). Uhura along with Spock and Sulu, was a member of the mission to transport a Slaver stasis box to Starbase 25 on stardate 4187.3. ("The Slaver Weapon").

In 2270, Uhura, McCoy and Sulu became trapped in the holographic recreation room when the ship's computer began exhibiting aberrant behavior following the ship's passage through an energy cloud. ("The Practical Joker"). On stardate 5275.6, Uhura, along with the rest of crew, contracted Dramian Auroral plague. Uhura collapsed on the bridge from the effects of the disease and would have died had Dr. McCoy not found a cure. ("Albatross"). On stardate 6770.3 after the Enterprise entered an anti-matter universe, the crew of the ship experienced accelerated reverse aging and Uhura was reduced to infancy. After the starship returned to normal space, the crew were returned to their normal ages by use of the ship's transporters. ("The Counter-Clock Incident").

Lt. Uhura appeared in all but seven episodes of the animated series: "Yesteryear", "The Survivor", "Mudd's Passion", "The Ambergris Element", "The Eye of the Beholder", "Jihad", "Pirates of Orion."

Above information & images from Curt Danhauser's Guide to Animated Star Trek. Please see his excellent site for detailed information on Animated Star Trek.