Memorial to Past Friends
Wolf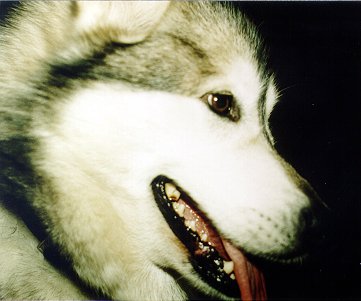 Wolf
portrait
Wolf came into my life at 2 years old in 1991. She was a rescue through the Philadelphia chapter of the Alaskan Malamute Rescue Society. She left me too soon in 2000 at only 11 years old. She had the sweetest personality. When someone came to the house she'd run to them, sit in front of them with tail wagging, looking up into their eyes as if to say, "where have you been all my life, I've been waiting for you!". She was a favorite at the vet's, because of her sweetness and ability to "suck up". When I'd board her she was given special treatment (the run of the facility after office hours to "help" the office staff). In her youth, she was a runner. A friend accidently let her out, and I went out looking for her. I kept getting reports of her and finally found her in the park in the middle of the pond giving the ducks "what for".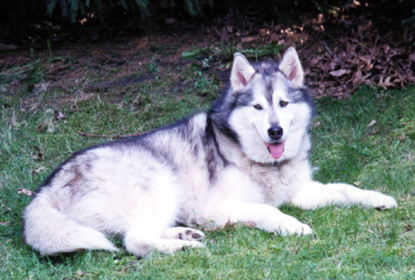 Wolf also had a sense of humor. She'd wait until I was comfortable for bed and decide she needed something (the gleam in the eye was always there). Something happened in her first 2 years that made her afraid of loud noises. In even mild thunder storms, she became velcro to me, because in her mind I could protect her from that awful noise. She did have the famous Malamute stubbornness, but did anything I asked of her (if reluctantly at times). She despised other dogs, but enjoyed the cats. She'd play "defend the bed" and not let them on for quite a while. Troi was her best buddy at play and at rest. After she left us, Troi went to her favorite spots, sniffed and rolled around in her scent.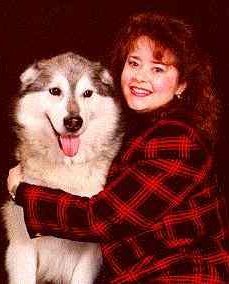 Wolfer was very afraid at this photo session because of all the noises in the store, and wouldn't put her ears up. The woman taking the photos tried talking to her, but nothing worked. Not even when she asked me if Wolf liked Sesame Street. I deadpanned, "she watches it all the time", thinking it was a joke. But the woman brought out an Oscar the Grouch toy, starting making baby sounds and gently bopped Wolf on the nose with it several times. When I said that Oscar wasn't a favorite of hers, the woman said "but I don't have any other Sesame Street toys".
I waited until we left the store to break out in laughter!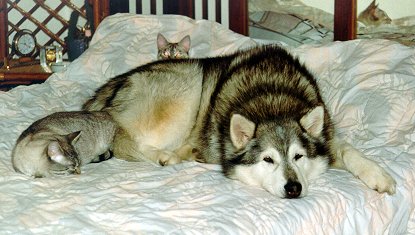 She loved the cats!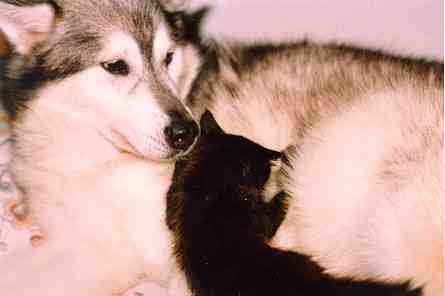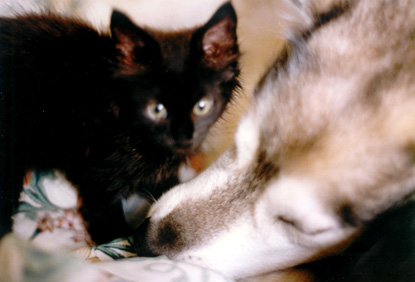 Background by Sheryl
Bordered background uses a picture of Troi gazing
at his reflection in the piano



| Home Page | | StarTrek Site | | Sherlock Holmes Site |
| Philadelphia Site | | Sinatra Site | | Books & Authors Page |
| Jazz Page | | Holidays Site | | Bio | | Mailing List | | Awards |

web site hosted by: